Thank you for scheduling an appointment with us. We look forward to speaking with you.
In the meantime, we thought you might enjoy some post from our blog!

You may also be interested in our Experiential Design Playbook:
The Essential Design Guide for Engaging Your Audience During COVID-19 and Beyond
Our playbook is a deep look into the COVID-19 stages of recovery as our communities and businesses navigate changing landscapes. Alt Ethos wants to connect with you to offer uplifting community engagement activities.
In this FREE playbook, you will receive:
13 Social-Distance Safe Designs
Community-Focused Innovation
Ideas for Creative Brand Engagement
Now more than ever – we need inspiration, joy, beauty. We need opportunities for rebuilding our public spaces, and access to the tools for human connection that will make that possible in a safe way.
Alt Ethos has developed our Experiential Design Playbook to inspire and educate on the ways we can move forward with creative community design during and beyond this pandemic.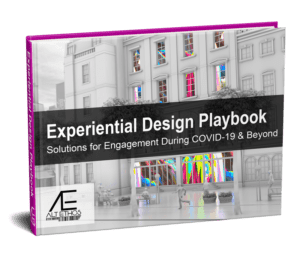 Enter your info for an instant download of our design playbook. We will never share or sell your information.