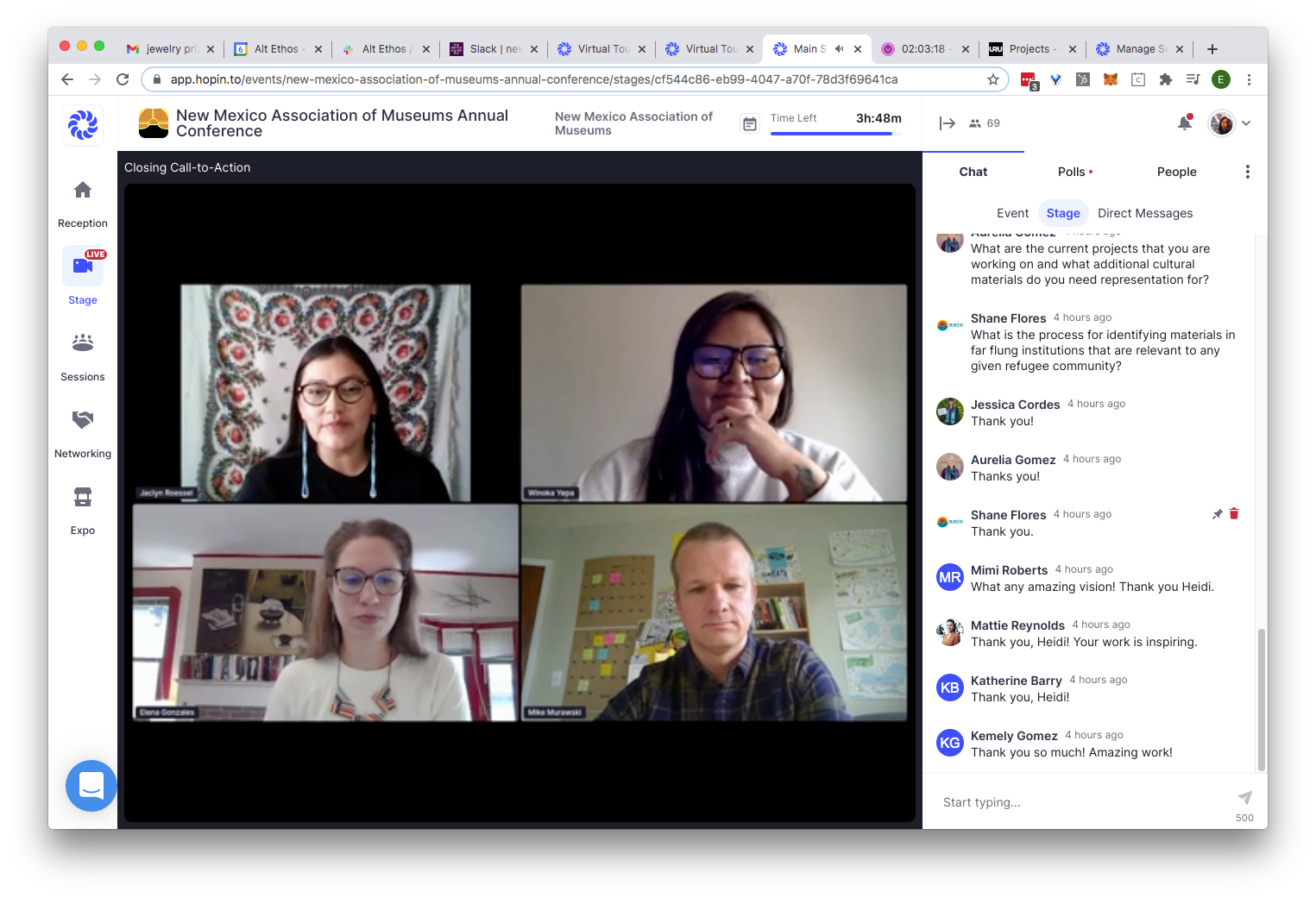 Live Virtual Conference
New Mexico Association of Museums Conference 2020
Virtual Conference Production
---
The New Mexico Association of museums engaged Alt Ethos to bring their yearly conference into the virtual realm for the first time in November of 2020. NMAM's NEH-grant funded meeting brought together dozens of museums, schools, and arts organizations to explore conference theme Future-Proofing Museums & New Realities. The conference focus was providing conference attendees skills and methods to manage in the age of COVID-19 including the development of digital storytelling, virtual exhibits, and creative means of distanced audience engagement.
Let's talk about your upcoming conference or event.
Modern Event Production
---
It was important to the association that they were able to keep important conversations happening, even at a distance. Through our live conference platform, panel discussions and Q&A sessions had up to 10 presenters simultaneously live on video. Event sponsors and students were able to provide live video interactions through their interactive expo booths.
Multimedia submissions – student projects, videos, 360 virtual tours, audio, websites, yoga classes, and more – were organized and provided for the event attendees to explore.
Special keynote presentations and roundtable discussions were shared live to the general public outside the ticketed conference platform. Alt Ethos provided seamless streaming services to Facebook Live and allowed NMAM to share their discussions with an even wider community.
Hybrid & Virtual Events
---
Alt Ethos works with a variety of organizations, businesses, and institutions to create engaging experiences for their virtual and hybrid events. From virtual trivia all they way to 360 environments and virtual worlds.
At NMAM 2020, CEO Ethan Bach presented opening remarks to kickoff the event.
Get Started