Design Phase
Alt Ethos provides a Design Phase that allows us to collaborate and partner with you to find out what will work best to achieve your goal. At the end of the design phase, you'll have concept renderings, equipment needs, and pricing in order to move forward with production. 
Our design phase involves research and creative strategy before we move into concept creation. This will allow us to find the technical and logistical needs and assess whether it fits your space and budget. 
Once we've agreed on that, we can meet your budget and deliver on time and on budget.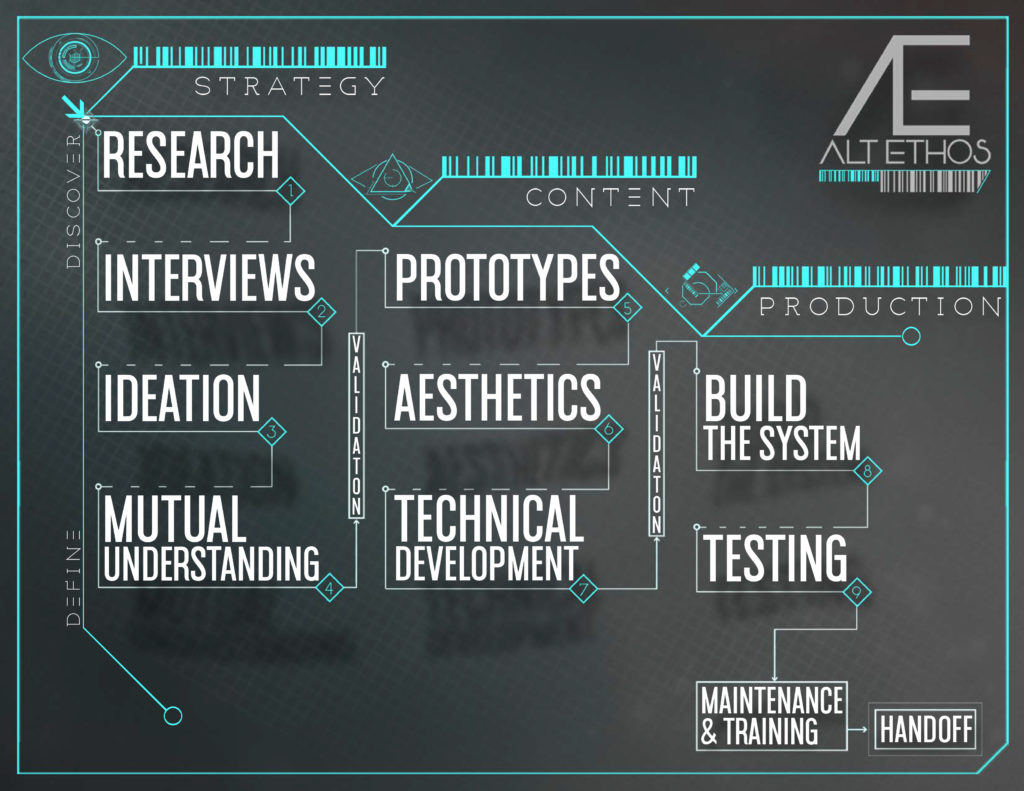 Creative Strategy
How will you satisfy your stakeholders and your audience? What does your audience look like and how do they interact with you, your products, or your space? What kind of concepts will provide the best value for your investment? We answer these questions through careful research and investigation of your space, your community, and your partners.
Project Scope
Location, demographics, user personas, and community research

Values assessment and defining key performance indicators
Logistics Requirements 
Power, rigging, transport/shipping

Ambient lighting, noise

Potential obstacles/limitations
Needs Identification
Concept Creation
We generate multiple design concepts and provide detailed descriptions and imagery to allow you to effectively visualize the end design and communicate the options with your team. Each proposed concept includes:
Visual concept renderings on high definition photography of the activation

Concept write up elaborating on the purpose, visual dynamics, and theme

Experience design analysis and recommendation for interactivity
Hardware and Technical Specifications
We put innovative technology to work for you and ensure its reliability and ease of use. Each of our recommended designs includes a breakdown of all technical requirements including: 
Measurements and Analysis 

Recommended of Hardware and Software Needs

Power and Data Requirements
Accurate Pricing
We back our conceptual design with a careful and detailed analysis of cost and time for each option. Take this quote to your stakeholders and partners to clarify the resources needed and confidently raise funds knowing that WE DELIVER ON TIME AND ON BUDGET! Contact us to get started.