1. What's our Project Management Process?
We love what we do and we want you to as well. The creative process is about finding the best way to translate your idea into a unique visitor experience. We tailor our creative development process to you, helping define and clarify your overall vision, problem solve, and create a world-class concept. By participating in a project from its inception we maximize audience impact and guide the production efficiently from initial design concepts through final installation and maintenance, as well as tracking impact of the experience.
Throughout the process we provide ongoing status reports and invite interested parties to visit our Denver studio to view the progress and test interactivity.
     2. Project Kick-Off Meeting with Alt Ethos
Come to our Denver studio, or we'll come to you. Let's meet everyone involved, talk details, finalize the schedule, and get all the gears in motion.
     3. Media Marketing Plan
We'll create a marketing plan for the project to ensure it is well-documented and promoted. Let's get a launch party on the calendar and link up on our social media. It's our desire to set you up for success!
     4. Discover and Define
After site surveys, research, interviews with your organization and target markets, and creative ideation sessions, we narrow down ideas and produce wireframe outlines for your project.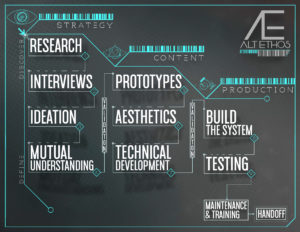 5. Ideation, Design, and Mockups // Final Design Review
We direct our diverse creative and technical experts to develop and mockup design options for your team to choose from. Select and sign off on your choice – and we're ready to produce!
      6. Validation: Mutual Understanding
We work directly with you to validate the design concepts before proceeding.
      7. Prototyping and Aesthetics
We collaborate and integrate with multiple disciplines across the technology, entertainment, and construction industries. We will send you progress updates as we build out your project; you are always welcome to visit our studio to be a part of the process and see the progress.
     8. Technical Development
Working closely with your local IT/facilities/maintenance teams, we will prepare the project for onsite installation. Durability, safety analysis, and interactivity/experience testing take place at our studio. Bring your team to experience the finalized project first-hand and sign-off for installation.
     9. Validation: Prototype Test
We work directly with you to validate the prototype before proceeding.
     10. Build and Installation
Alt Ethos staff installs the project at your location and provides a final walk-through and validation for your team.
     11. Testing and Refining
We are diligent about making sure your patrons have the best experience possible. Our team of experts test the installation for responsiveness and engagement, providing adjustments where needed. Third parties may be invited in to share an objective perspective.
     12. Validation: Final
We work directly with you to validate the final implementation before finalizing the contract.
     13. Final Refinements
There may be a few minor tweaks prior to the grand opening to make the experience the best possible for your audience.
     14. Opening Day Celebration
We love a good party! Marketing the activation prior to the grand opening and inviting us to film the event will ensure the greatest impact and engagement.
     15. Maintenance and Training
Alt Ethos will provide a complete Maintenance Manual for the installation in addition to onsite training for your staff. The installation is handed off to our Warranty and Maintenance Manager for ongoing support needs.
     16. Ongoing Support
We would love to collaborate on a launch party or celebration to invite your community to experience the installation. We will utilize our network to provide buzz on social media and promote your project in our newsletter. Let's talk about future collaborations over lunch!
     17. Your Next Project 😉