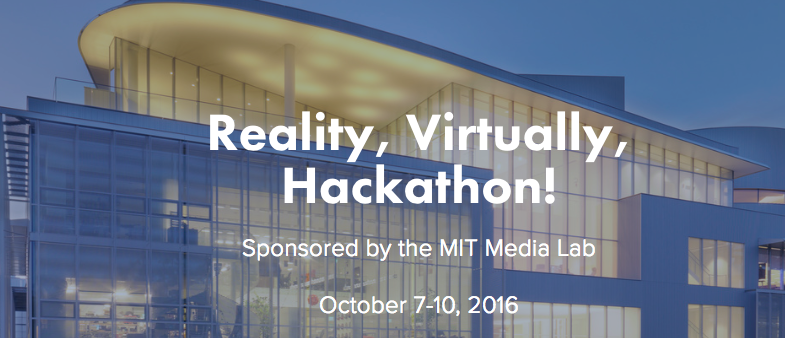 Alt Ethos News – Wednesday October 5th, 2016
MIT Media Lab, seated inside MIT's campus in Cambridge, Massachusetts will host it's Reality, Virtually, Hackathon! Matt Maes, Chief Opportunities Officer at Alt Ethos, has been accepted to attend workshops and participate in the MIT hackathon as a designer. Matt received his Bachelor of Arts from the Art Institute of Colorado. He has since developed for Alt Ethos' Comic Con VR demo and has spoken on the ethical responsibilities, opportunities and consequences of Virtual Reality at Denver Startup Week. MIT Hackathon takes place October 7 through October 10 in Cambridge, Massachusetts.
On Friday, October 7th Matt will participate in workshops covering Virtual Reality platforms and Unity development, specifically including mobile design. Friday 10pm through Sunday, Hackathon participants broken into competitive groups to develop the most effective, relevant creations.
"The Reality, Virtually Hackathon will apply the skills of designers, developers,graphic artists and sound/video engineers learned building the most popular apps in the field of gaming and entertainment to vertical markets such as medical, education, advertising, architecture, engineering and construction. We will have an OpenGL and Vulkan native programming track to emphasize mobile AR/VR." –http://www.realityvirtuallyhack.com/roles/
The closing ceremony will begin on Monday at 1:00-1:30, when the winners will be announced.
A free public expo will be take place on Monday, October 10th. The event page can be found at http://www.realityvirtuallyhack.com/#intro. Observers may RSVP at: http://www.realityvirtuallyhack.com/register/
Hundreds of notable artists, designers and engineers where selected from a highly competitive pool of applicants. Selected participants are among the national developer community and institutions are expected to partake in the event powered by MIT's encyclopedic breadth of technical knowledge. VR-MIT has a vested interest in becoming the hotspot of Virtual Reality and Augmented Reality knowledge and development by connecting community, expertise and support for entrepreneurs in the Virtual Reality industry.
Matt's training is in Media Arts and Animation from the Art Institute of Colorado. Matt's focus on 3d design brings incredible talent to the Alt Ethos team. On September 15th 2016, Matt Maes and Michael Sperandeo, Chief Creative Officer, presented a talk entitled "The New Dispensation: Virtual Reality", speaking on the past, present and future of Virtual Reality's role in society at the Commons on Champa as part of Denver Startup Week.
The Virtual Reality market is only growing into the future at the professional and consumer level. MIT's commitment to becoming at the forefront of this technology speaks not only to the institution's priorities but also Virtual Reality's growing influence and potential. A 2016 report from Markets and Markets states that Virtual Reality's total market growth is expected to jump from $1.37B-33.9B from 2015-2022. It is rapidly expanding to cover every major vertical industry. full report.
As a participant of the MIT Hackathon, Matt intends to seek further knowledge of Virtual Reality development and general knowledge to broaden Alt Ethos' understanding of this pivotal technology. He will be reporting live through social media which can be found on twitter, facebook, and instagram. A blog post will follow his return with a full report on his experience.
The Reality, Virtually Hackathon! Will be an exciting opportunity to collaborate and build on MIT and Alt Ethos' endeavor to expand development of Virtual Reality. As artists, designers and engineers, Alt Ethos is committed to expanding the use, functionality and awareness of immersive and interactive technology. Matt looks forward to working with the brightest minds in VR/AR entertainment, medical and education to push the boundaries of what this technology makes possible and how we can use it to improve people's lives. Here's to an enlightening journey and collective realization of the future.