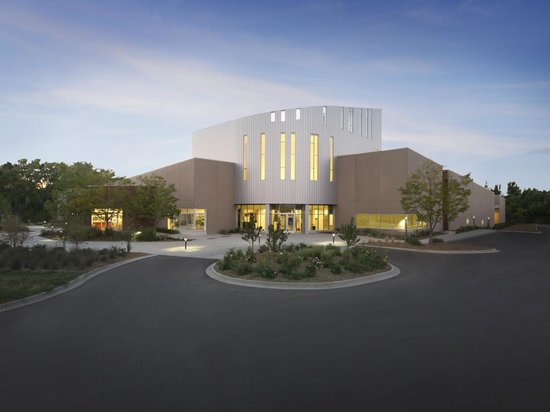 Alt Ethos News – Tuesday April 11th, 2017
It is with great pride that we announce our most recent work with an organization with which we've shared a close bond and rich history: The Fort Collins Museum of Discovery. The Fort Collins Museum of Discovery or FCMoD as it's most commonly known is a partnership merged between the Fort Collins Museum and Science Discovery Center in 2008 for the purpose of inspiring scientific education through creative, engaging educational experiences, all under one roof.
The museum's layout tells their focus on creating experiences which balance education with interactive audio play in an open format through various applications and specialties. Walk through the front doors, past the lobby and you'll witness an interior aid out with strategically placed installations meant to evoke interactive sound based experiences between groups of all ages. The museum maintains a reputation for its exhibits which encourage self-learning, requiring little to no prior instruction.
The museum brings in many families with children who naturally gravitate towards the most fun exhibits such as the Reactable and Build Your Own Horn. We later asked how many mouth pieces get washed every day at the Build Your Own Horn exhibit: Over 300. We're gonna try and avoid that for ours.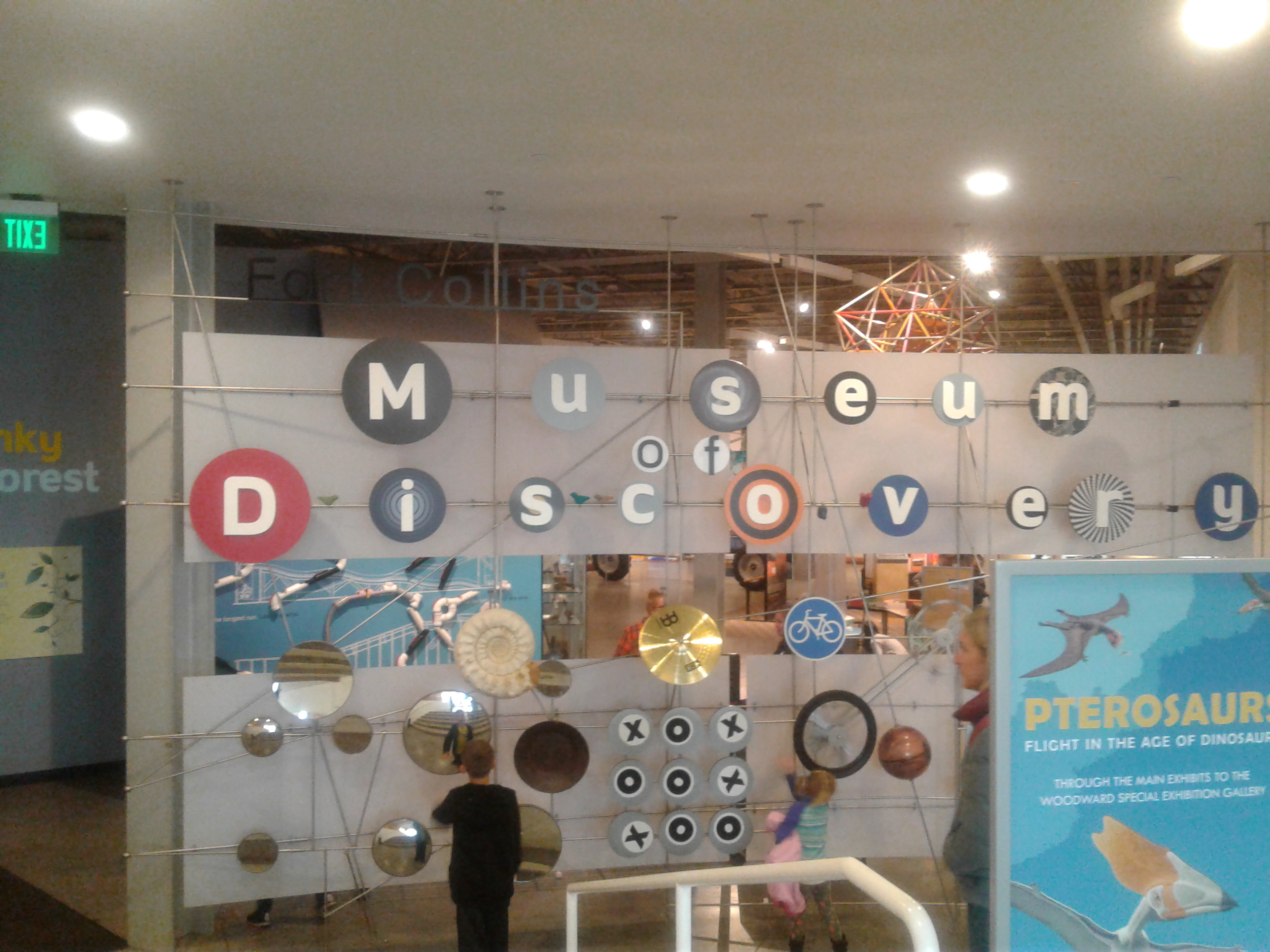 Walk past the Build Your Own Horn exhibit and you may pass right by a dark unassuming semicircle room lined with a couch facing a tv which felt like a small lounge. Think about that: An underused, empty lounge with everyone else outside playing at the exhibits.
Our job is to create an experience which marries sound and motion in a way which makes approaching a musical instrument as smooth a process as possible, a visual ensemble which binds humans to the act of play upon entering the room. In our case the most sensible approach is to position Kinect sensors and projection overhead, ensuring no damage to the equipment or disruption of the intended experience. Given the most common users are children these exhibits see a great amount of use and misuse. With this in mind we've planned to create an experience which anyone can enjoy without a great risk of damage to either our equipment or museum visitors.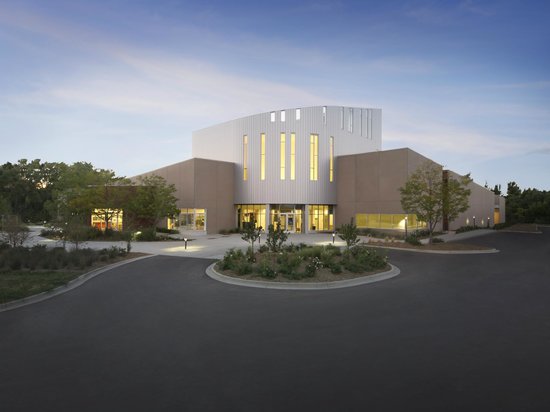 We arrived at 9:30 armed with a Ben Q and Optoma projector with the intent of measuring the space and testing throw distance from above. We wanted to gain a scope of our projector capabilities before the meeting. A matter of minutes into testing and we see a child walk inside wide-eyed at our feed video. Ben kindly shooed him out and we laughingly told the story later.
At 10:00 on March 31st our team had the pleasure of sitting down with Ben Gondrez – Digital Dome Manager, Ben Griswold – Exhibit Manager, Nick Duarte – Music Curator and Brent Carmack – Associate Director, the main players in our discussion of the function, parameters, application and overall purpose of this installation.
Climb the stairs next to the front door and you'll reach the Otterbox Digital Dome Theatre, Ben Gondrez' domain. The Digital Dome showcases international animations on an immersive format, a practice which has accelerated in recent years in place of strictly educational displays.
In a music oriented town such as Fort Collins Nick Duarte is the most knowledgeable of music theory and most passionate about the witnessing the joy moments which comes over those in a trance of musical play.
In the Discovery meeting Ben Griswold illuminated how the combination of the history and the science museums into one entity defines a lot of their legacy and ideology as a hybrid institution, one that can see history from the lens of science and science through the lens of history. This man's vision is true north in the purpose of FCMoD's exhibits.
Brent Carmack has overseen projects which characterize the museum as a landmark of Fort Collins such as the FC150, a project which called for submissions of what makes Fort Collins, Fort Collins. His attention to the "what if" questions spoke of his extensive experience with the museum.
Today was our first impression of each party meeting as a group. We set the tone with a few improv exercises to immerse ourselves into a childlike mindset. In the first game one person moves any way they choose and the rest of the group makes onomatopoeias matching with their movements. The second was a game of charades; One person acts out an audio term to the best of their ability and the group guesses the term. This proved to be quite a fitting approach to begin discussing an installation designed to inspire a discussion which ultimately ended up crossing the globe in terms of how human beings interact with sound.
The tone was immediately set as we dove into why this creation is important:
Music can be created in many more ways than traditional instruments, broadening our understanding of the ways that sound can be created as a metaphor for uncovering new possibilities in how to navigate through the sonic environments that are essential to our experience of the world.
The next question is "How can we make this possible?" We began discussion of scope and parameters including technical capabilities. Through overhead Kinect sensors and projection we're able to capture data from above which can be interpreted in multiple ways: Based on our survey of the space, stakeholders and museum patrons we provided three concepts catering to specific effects on the user, providing sketches illustrating each from different perspectives: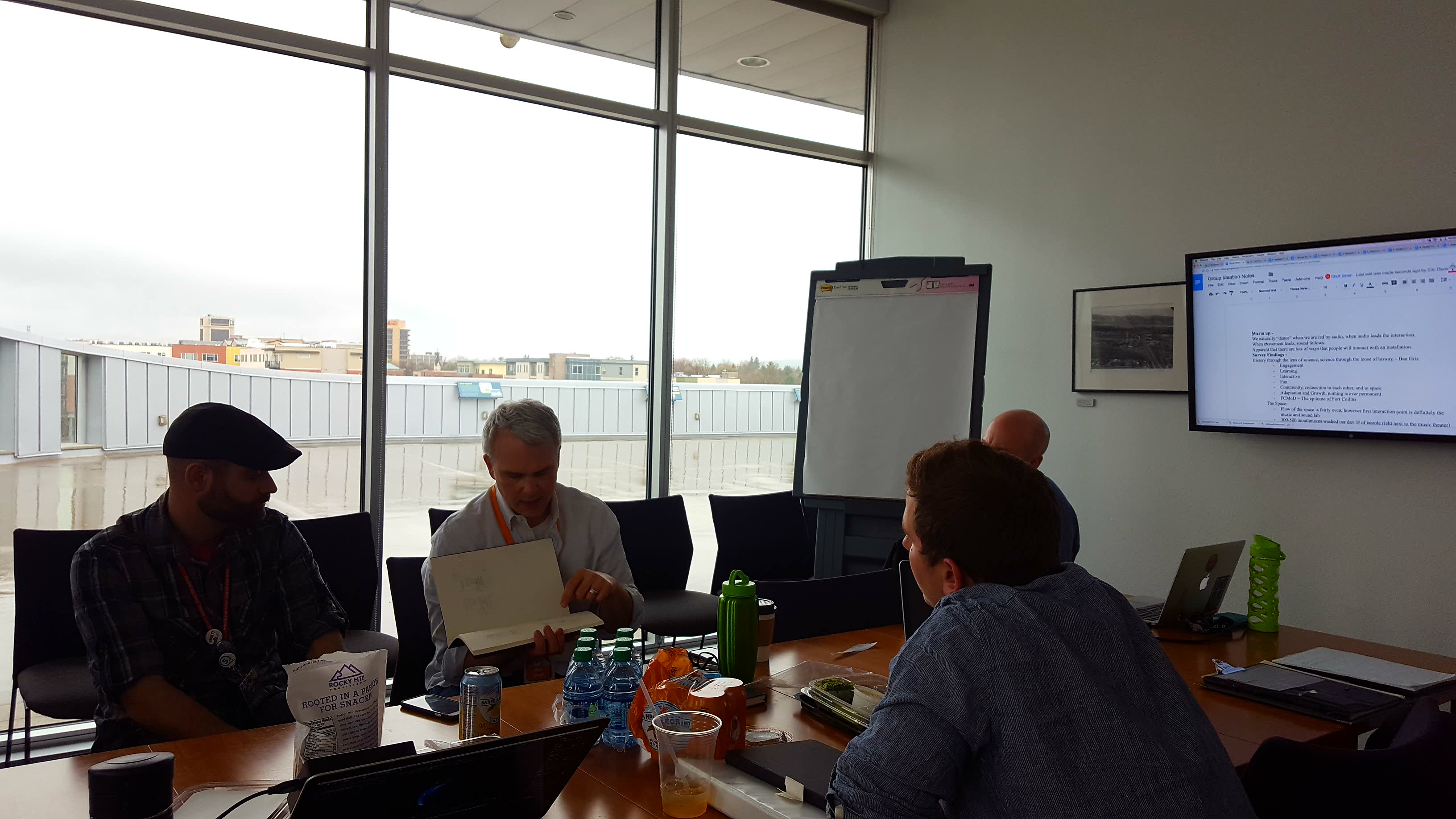 Ripples: Colored ripples represent different expressions of instrumentation allowing users to create compositions. The ability to change the placement and sonic qualities of ripple generators and record your intersections, thus creating loops fosters both individuals and groups to create a wide range of musical forms.
Hopscotch: The room is broken into segments representing musical instruments. You step in and based on your position trigger pitch and frequency. If you stand still long enough lily pads of color light up your position and paths you can jump to. For example: If you're in the drum section you can hop to the kick drum or snare, building a song as you go.
Mirrors : Mirror uses the same elements as either "Hopscotch" or "Ripples" to create sound with movement. There are three distinct differences: 1. Each patron is represented through a digital abstraction / object to give reference to their spatial movement in the room. 2. The patterns are only represented in the digital space. and 3. The mirrored virtual back wall is a virtual landscape/design that bends, reshapes, and distorts with the music and movement.
Amidst snacks we poured over the three concepts, imagining each detail in formation of our approach. By the end of the day all parties left in rabid anticipation to see this project come to life.
Before leaving we returned to the empty room for final measurements. As we were wrapping up our measurements we heard a small child who had wandered inside say "There's nothing in here". He turned as his mother guided him away as we smiled and remarked that that reaction is about to change very quickly.
Matt Maes is a Denver animator focused on immersive and interactive technology. He is Chief Influence Officer of Alt Ethos, Ltd and is also an executive member of the nonprofit organization Denver Arts and Technology Advancement (D.A.T.A.)