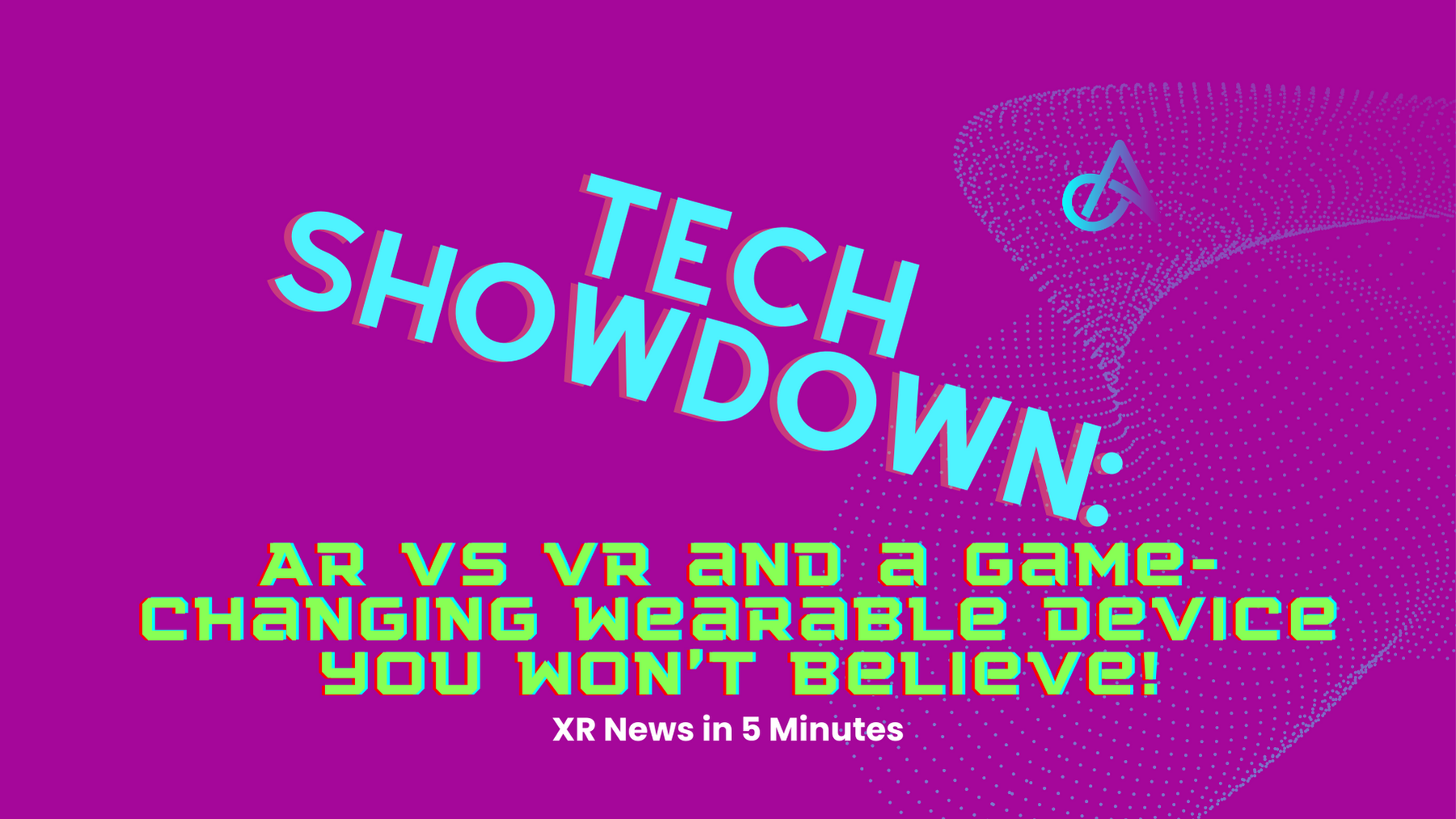 In this week's episodes, we will discuss the race between AR and VR and its impact on smartphone
market and there is a major disruptor this week with new technology from Humane that will  blow your mind!
Hi there! I'm Ethan Bach, and I'm thrilled to be coming to you from Alt Ethos, a Metaverse, and Experiential Design Studio in our weekly roundup. In under 5 minutes, we'll be giving you the latest Metaverse, XR, and Web3 news to keep you ahead of the curve.

Today we're talking about the ultimate showdown between AR and VR. These cutting-edge technologies are changing the way we interact with the world. Although the influence has been slow due to hardware and technology development for wearables, with the help of ai we are sure to see the technology and designs change significantly in the near future.
Alright, so, VR has been owning the market so far in this race, with big hitters like Sony, HTC, and Meta with Oculus dominating the market. But headset sales still pale to comparison of other tech adoption such as smartwatches.  But the tables may turn soon, as AR is expected to see the highest growth rate over the forecast period. Plus, Apple is gearing up to release AR glasses that could shake up the market later on this year. 
The race for AR is that it's predicted to disrupt the smartphone market 
and in smartphone adoption of over 1 Billion sold in just 2022 in a USD $485 billion industry. At a time when Oculus has sold 20 million headsets total, Moving into the smartphone market is currently the big race.
Mixed reality or MX is the best of both worlds, seamlessly blending the real and virtual worlds. It's getting more and more popular, with devices like the Oculus Quest Pro and Microsoft HoloLens taking the lead. Other companies like Magic Leap, HTC, and Varjo are also making waves in the mixed-reality space.
While all three technologies have their place, we predict that AR and mixed reality will have more use cases and be more widely adopted among the general public than VR. We see VR for more specific cases such as medical and surgery and gaming. The future of VR, AR, and mixed reality is still unknown, and we can't wait to see what happens over the next few years 
OR in the next few months!
Check this out, 
if you have not seen this – holy cow – this is a game changer!
we're going to talk about a newer company getting attention this week called Humane and their innovative approach to technology.
Humane is developing a wearable device that utilizes AI that combines a camera, sensor, and projector into one small package and acts as your personal AI assistant. You wear it on your lapel!!

This device is designed to enable people to interact with technology in a more natural and intuitive way without constantly staring at a screen or having cramped fingers and horns growing in our necks! This device can capture images and videos, detect a user's movements and gestures, and project content on any surface.
What makes Humane unique is their approach to design. They focus on creating technology that respects users' privacy. Not sure we can say the same for Meta's and Rayban's Smart Glasses which put privacy at risk.
They are challenging the status quo of tech, design, and AI. and showing that it's possible to create technology that's both innovative and responsible.


And watch out Apple!, they are here to disrupt in the smartphone industry – so, check this out! This demonstration that happened via a Ted talk given by Co-Founder Imran (EEm-ran) Chaudhri (Ch-AW-da-ri)  has this guy answering a phone call from his hand and like the Babblefish of the Hitchhikers Guide to the Galaxy, it translated languages in real time! 
Chaudhri (Ch-AW-da-ri)  says
 "The future will not be held in your hand and it won't be on your face either. The future of technology may almost be invisible. "
We loved his presentation and man, Chaudhri's (Ch-AW-da-ri) demeanor is so badass. We recommend you keep your eye on him and Humane as the next few years will really get exciting to see what comes next.

Thanks for tuning in to our weekly roundup of the latest in XR, Metaverse, and Web3 news. Before you go, make sure to hit that subscribe button so you never miss an episode. And don't forget to leave your thoughts in the comments below!
Next week, we have something special in store for you. We'll be reviewing this Unreal Engine Metaverse a look at the Reality Innovators Network networking event. Trust us, you won't want to miss it. See you next week for another exciting episode in under 5 minutes.