To all of you, we at Alt Ethos have been working hard to innovate solutions for this changing time. Communities and organizations around the world are at a high level of confusion, overwhelm, and disconnection. Like you, we had our times of frustration as we navigated the rough waters of the unknown. We also saw it as an opportunity.
Consider this a call out to those who seek to create joy and connections in your communities and constituents. We want to work in collaboration with you, the dreamers, the visionaries, and future thinkers. That is why we created the Experiential Design Playbook: Solutions for Engagement During COVID-19 & Beyond.
Our communities are starting to come out of stay at home orders around the globe. How shall we experience community spaces and not end up on national news like the Memorial Day waterpark parties? Watching these gatherings can make you feel unhinged and afraid to engage. In this desire to re-open and reconnect with our constituents, we intend on providing flexible solutions that retain ROI if and when another wave of shutdown orders occurs.
That is why Alt Ethos has been doing research and design since the closing of the first major international event in the United States, SXSW.
During this crisis, that feeling of isolation can make everyone feel disconnected. If municipalities and corporations can't find a way to safely connect with their constituents, they miss the chance to provide support and a sense of well-being.
Now is the time to step up and activate your communities and create the future of placemaking, entertainment, and advertising. A culture that is resilient, fun, and provides an opportunity for connection. It is our destiny as humans to create new solutions, visions, and activations to reinvigorate the next steps in social healing. It is the responsibility of our cities, our libraries, our public art, and our local businesses to reconnect with our communities.
Your contribution to the recovery of this crisis is going to be massive. You are creating the future of community building and entertainment. We know we are a small percentage of the population that imagines the future even in the time of a world crisis. We are looking for you to create, to connect, and to activate new solutions.
Get started by downloading our new Experiential Design Playbook. First, to get an idea of what is possible and mutable in uncertain times. Second, to increase the support your constituents feel connecting a greater bond to your city or your brand. Create activations that make your message easier to hear, simultaneously inspiring engagement and making a contribution to your community.
Learn all about our COVID re-entry experiential design solutions: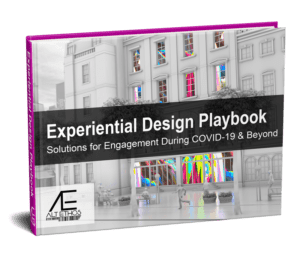 The world is ready to come out and play while feeling safe and secure in doing so. Let's put some joy and connection back into everyone's lives.
Alt Ethos is looking for forward-thinkers and creators – we are ready to work with you.
Be well,
Ethan
CEO, Alt Ethos