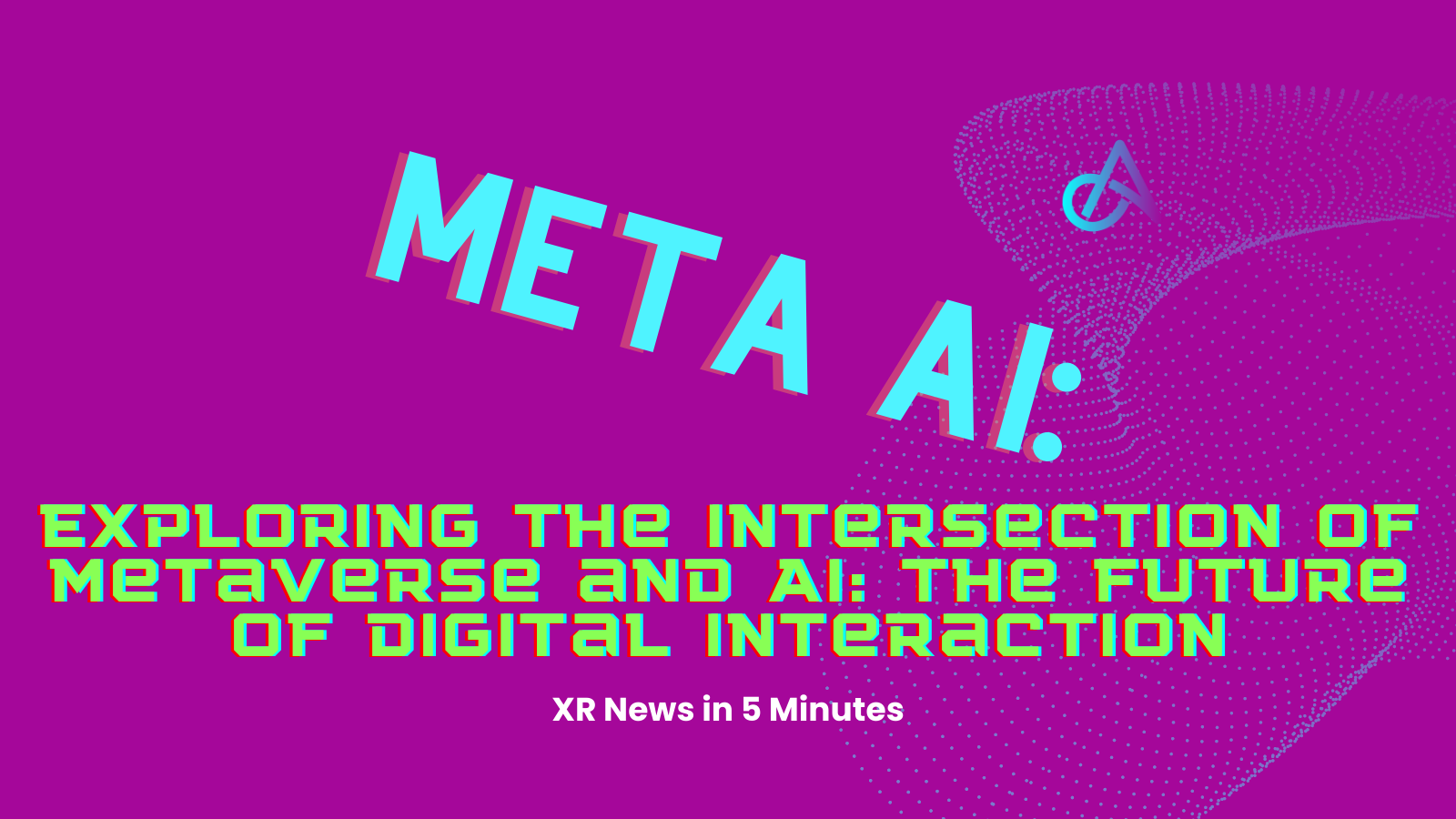 Get ready for an exciting episode this week as we explore the dynamic relationship between the metaverse and AI. We'll also dive into the cutting-edge insights from the Future Today Institute's 16th edition of its Tech Trends Report, which was unveiled at SXSW and bonus! we will talk about an upcoming event in amazing Metaverse that is not to be missed.
Hi there! I'm Ethan Bach, and I'm thrilled to be coming to you from Alt Ethos, a Metaverse and Experiential Design Studio in our weekly roundup. In under 5 minutes, we'll be giving you the latest Metaverse, XR, and Web3 news to keep you ahead of the curve.
In a recent interview with Gartner director analyst Tuong (Two Nong) Nguyen (Wen) on sdxcentral.com, they discussed the impact of AI on the metaverse and vice versa. It's clear that these two technologies are going to change the game when it comes to digital interaction.
Initially, AI will revolutionize the metaverse by allowing for personalized experiences that adapt to users' preferences and behavior. With AI algorithms, users can expect immersive and dynamic experiences tailored to them in the 3D world. Additionally, intelligent avatars will become more human-like, using natural language processing and computer vision to communicate with users and react to their actions and emotions. We have already seen examples of this just weeks after ChatGPT came out in the metaverse Engage who customized an NPC to speak through AI and help the user to use tasks in Engage.
However the things you may not be things is how the metaverse will also fuel the development of AI technology. Let's be honest, one reason the metaverse is so desirable for marketing is the collection of data. It's like social media data collecting on crack. The massive amounts of data generated by users' interactions can be used to train AI algorithms and improve their accuracy and effectiveness. This mutually beneficial relationship has exciting potential. To be fair, for those of you who are worried data mining, not all metaverse platforms will release all your data.
Of course we have to touch on the security risks to consider, such as hacking and harassment. We saw this this week with Siemens Metaverse exposer of corporate data. But not to worry just as we see stolen data from our mobile phone companies, measure will be taken to provider stronger security. And AI can help detect and prevent these malicious activities, making the metaverse a safer place for all users.
As with any new technology, there will be challenges to overcome. But as Nguyen (Wen) notes, "Like the internet, the metaverse will continue to evolve."
We must keep an eye on these two technologies and their evolving relationship, as the potential for personalized, immersive experiences and intelligent avatars is mind-blowing.
–
Diving deeper into AI and Metaverse – here is a break down some serious tech news that's going to impact every industry in 2023 and beyond. Just recently, Amy Webb launched Future Today Institute's Emerging Tech Trend Report at SXSW 2023, and it's got our minds blown with over 600 trends across 819 pages. But let's cut to the chase and talk about the ones that matter most – AI and the Metaverse.
These trends are already reshaping industries and will change society as we know it. Right now we are moving from the internet age of information to interconnected data, and that means LLMs (Large Language Models) or AI will play a significant role. We're talking AI accelerators, cloud computing, and massive neural networks that will make our current technology seem primitive. But with all of this new tech comes the need for regulation and preparation, and education on how to use AI or entire groups of people risk falling behind.
On the optimistic side, AI and the Metaverse will transform industries like medicine and education, increasing productivity and creating new tools for humanity. But on the catastrophic side, we could face aggressive data scraping and new digital divides. It's not all doom and gloom, though. We have the power to create a better future by showing up for ourselves and each other. Let's embrace this moment and make it count!
As we said last week, we need to show love for each other and for technology and show our best selves to move forward for the best future.
Lastly, there is an event on Wednesday that is not to be missed. Alt Ethos is proud to be a part of the future of the metaverse! We're excited to sponsor the upcoming Metaverse Networking event, hosted by the Reality Innovators Network on the cutting-edge platform by Odyssey VR.The Reality Innovators Network , the largest Metaverse, VR/AR/XR community on LinkedIn with over 60,000 members on Linked. We have provided the link below.
That's it for this week
Thanks for tuning in, make sure to hit subscribe and put your thoughts below, and we'll see you next week for our first XR, Metaverse and Web3 news roundup in under 5 minutes.
Don't miss Staying Fit in the Metaverse – Wednesday 4/19 @11am Pacific.

Amy Webb Launches 2023 Emerging Tech Trend Report | SXSW 2023 https://www.youtube.com/watch?v=vMUpzxZB3-Y

How AI will drive the metaverse (and vice versa — eventually) https://www.sdxcentral.com/articles/analysis/how-ai-will-drive-the-metaverse-and-vice-versa-eventually/2023/04/