The American mall used to be a robust gathering place, hosting mall walkers in the morning, high school kids in the afternoon, and families simply looking for something to do in the evenings. With the rise of home entertainment and online shopping, especially in a post-COVID world, these former hubs of activity have seen a steep decline in attendance, causing many storefronts to sit largely empty.
Now, a new trend in "retailtainment" is picking up the slack as retail malls are being sold to gaming companies. Using technology, visual storytelling, and interactive experiences, this new way to use public space has started to reinvigorate the mall as a social place to hang out, bringing consumers back to in-person shopping. 
These strategies don't only work for malls. City shopping areas and public gathering spaces can be activated similarly, driving the public out of their homes to areas where local dining and shopping is essential to city economic health and tourism. This art of creating immersive and interactive experiences has been dubbed Destination Design.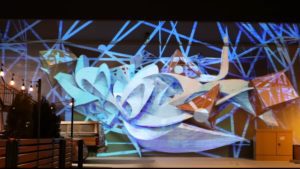 Alt Ethos is a leader in Destination Design and has participated in several projects in collaboration with downtown development authorities, arts and culture groups, and city tourism agencies to provide designs that help drive foot traffic to strategic locations. These projects encourage interaction, collaboration, and play; creating unexpected joy and bringing together communities.
One strong example is Alt Ethos' Illuminous Fort Collins. Installed in 2018 as part of a Fort Collins revitalization project, this interactive, projection mapped mural can still be found lighting up the alleyways of Old Town. Thanks to this project, these once barren streets are now lined with bar patios, vibrant performances, and a high-end hotel where you can request a room with a view of the moving mural.

Alt Ethos is proud to help cities redefine their tourism and community strategies to launch experiences like the Illuminous project. These Retailtainment designs provide successful, measured, and defined experiences that engage with communities and drive tourism. 
For more examples of Alt Ethos city engagements, check out our Colorado Immersive Tour