On August 29th and 30th at AREA15 Las Vegas, Epic Immersive welcomed immersive industry luminaries from Secret Cinema, Marshmallow Laser Feast, David Byrne's Theater of the Mind, Broadway, Swamp Motel, Meow Wolf, Delusion, Mycotoo, AREA15, Boomtown Fair, Les Enfants Terribles, The Oregon Shakespeare Festival, and more. As well as international guests from companies in China, India, Singapore, Russia, and Europe.
Epic Immersive is an immersive experience agency that has created 14-acre fictional cities and underground wonderlands. Companies like Apple, Google, and Facebook have commissioned Epic Immersive experiences.

The 2-day event included speakers Mycotoo's Fri Forjindam, Fifth Wall Forum's Stephanie Riggs, AREA15's Michael Beneville, the Oregon Shakespeare Festival's Nataki Garrett, and the team behind VR theatre experience Welcome to Respite (Tribeca Film Festival 2021 Official Selection), with many more. 
Alt Ethos caught up with Steve Boyle, co-founder of Epic Immersive (co-created with Kimberly Flynn) to discuss event curation, announcements, and exciting future plans. 
The Alt Ethos team really enjoyed The Immersive Industry Homecoming Summit. What was your process for curating the speakers; how did you go about choosing them?
We (Steve Boyle and Kimberly Flynn) worked together to identify the most compelling movers-and-shakers from the global immersive scene across a number of genres and mediums. It was of supreme importance to us that we threw a truly global event, and that our speaker roster reflected the incredible diversity of our field, highlighting femme and BIPOC creators. 
We noticed that there were some announcements made at the event from the speakers. Can you please share some of those?
Two big ones come to mind: Stephanie Riggs announced the creation of Odeon Theatrical, a new platform that delivers AR content for live theatre, and Kim Adams announced the return of Adventure Lab. 
What was the moment that surprised you the most at the event? Or a "wow" moment that comes to mind?
Steve: The wow moment for me was really just being there — those first moments especially when the energy is so high and the anticipation is there and we've really, truly come together for the first time in 18 months, with tons of safety precautions in place, and we've made it together safely. That was an amazing moment I'll never forget.
Kim: Wow moments for me were in all the excitement and enthusiasm throughout the entire process from the speakers to our attendees, the positivity, excitement, support and joy from everyone involved and from everyone that attended was really magical. It was wonderful to feel the community excited to be sharing an experience again after such a long break.
Any shout-outs you would like to share?
Huge, huge thanks to projectionist and technical director Jacob Vorperian, and our tech wiz Christie Casey.
What are the future plans for The Immersive Industry Homecoming Summit?
Stay tuned! We'll definitely be back in Vegas, and you're going to want to be a part of a whole circuit of events we are planning in 2022.
What's next for Epic Immersive?
A return to large-scale immersive experiences in 2022. Once again, stay tuned for big announcements!
We thank Steve Boyle for taking the time to chat with us and appreciate all of the effort that the Epic Immersive team, speakers, and collaborators put forth to make this Summit such a special event. Bringing together a group of visionaries, technologists, and storytellers is no small feat. Alt Ethos enjoyed the projection mapping within the space, the deep conversation from the speakers, the diversity of the group, and the pace of the presentations. We learned deeply about different companies and artists doing cutting-edge immersive work. Also, let's not forget about the unique container that the summit took place in. If you're ever in Las Vegas make sure to visit Area15.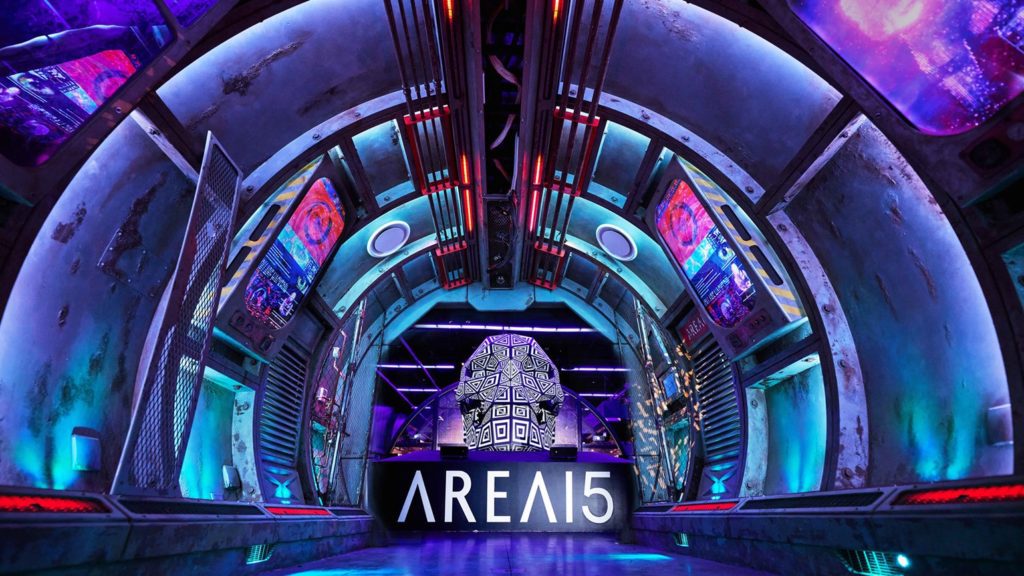 AREA15 is an immersive playground, all rolled into a vast and vibrant space. Throw an axe, wander through a bamboo volcano, race on a zip line, or explore other mesmerizing realms. From the futuristic to the thrill-seeking, there's an experience for everyone here.
Epic Immersive creates story-driven immersive experiences with explorable, 360-degree worlds. From ticketed experiences to corporate events to marketing activations, they deliver epic, unforgettable journeys.