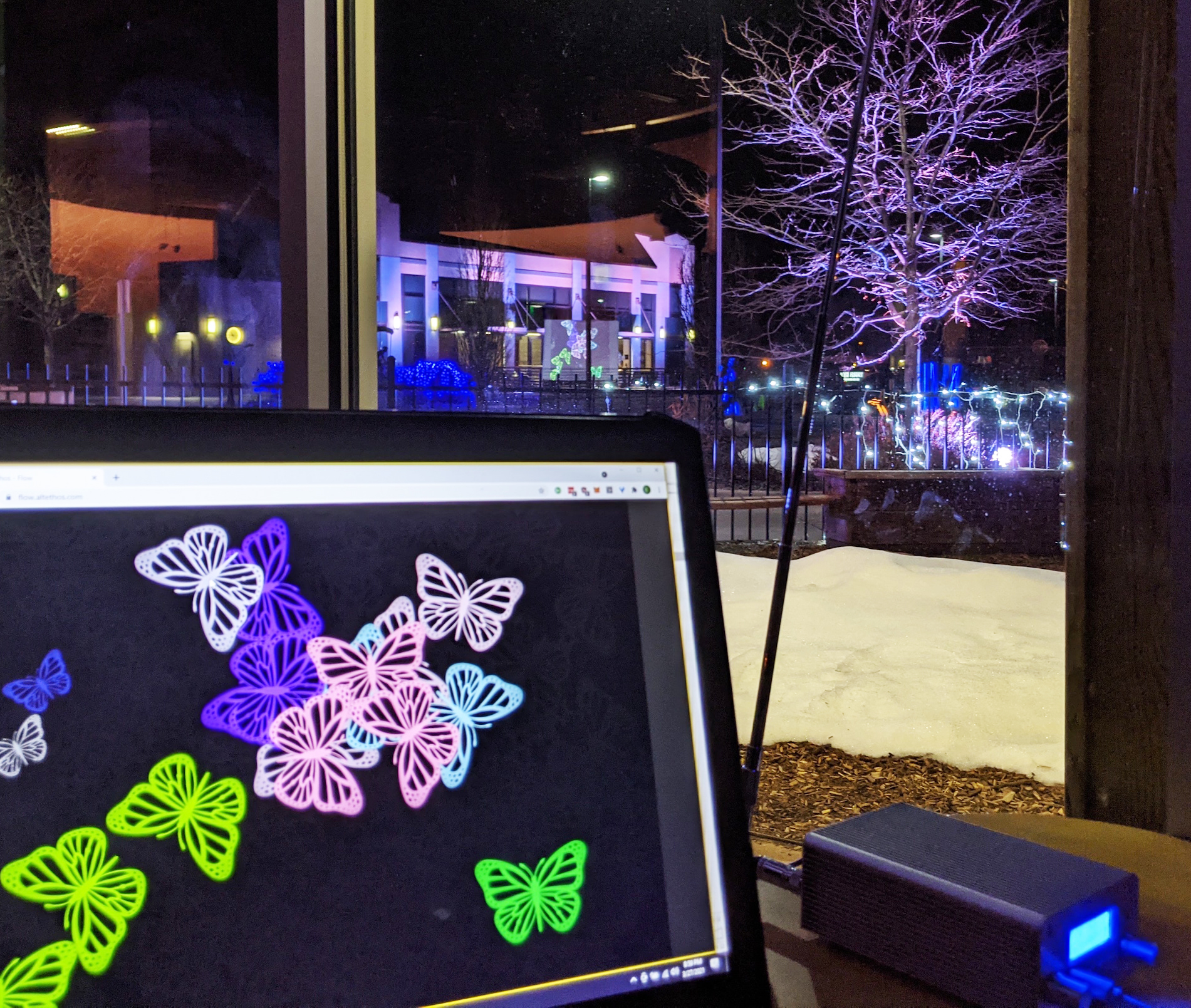 eFlow is a fun and creative way for people to engage and connect while physically distancing. Whether at a drive-in event or virtual event this collaboratively creative platform can be easily branded or themed.
eFlow's platform is fully customizable – custom stamps, brushes, and backgrounds are all possible to create branded experiences for your event.  The ongoing live collaboration can be displayed publicly by projecting the canvas large-scale at your physical event as well – creating a hybrid experience for both onsite and virtual attendees.
eFlow is an artistic collaborative WebGL fluid simulation that works in your browser. You and other online participants can collaborate with colors and shapes on an ever-changing canvas. See the networked artwork shift and grow in real time as others join in on the fun.
Previously…
Outdoor Immersive Storytime 
At the Anythink Brighton Drive-In Storytime event, as attendees got settled into their parking spots, they were able to play with eFlow on the screens across their personal devices and see their the projection screens in the lot.
Virtual Dia De Los Muertos Experience 
Alt Ethos created a custom Dia De Los Muertos interactive experience for Thornton, Colorado's 5th year of its annual celebration. While October 2020 restrictions transformed this hybrid event into online-only, visitors were able to connect and share the community memorial video online and play with others decorating the sugar skull on eFlow.
Let's talk about ways that Flow can bring magic and play into your event! Interactive and immersive exhibits take your event to the next level.
Schedule a Complimentary Consultation
eFlow is based on the open-source fluid simulation developed by Pavel Dobryakov under the MIT license.