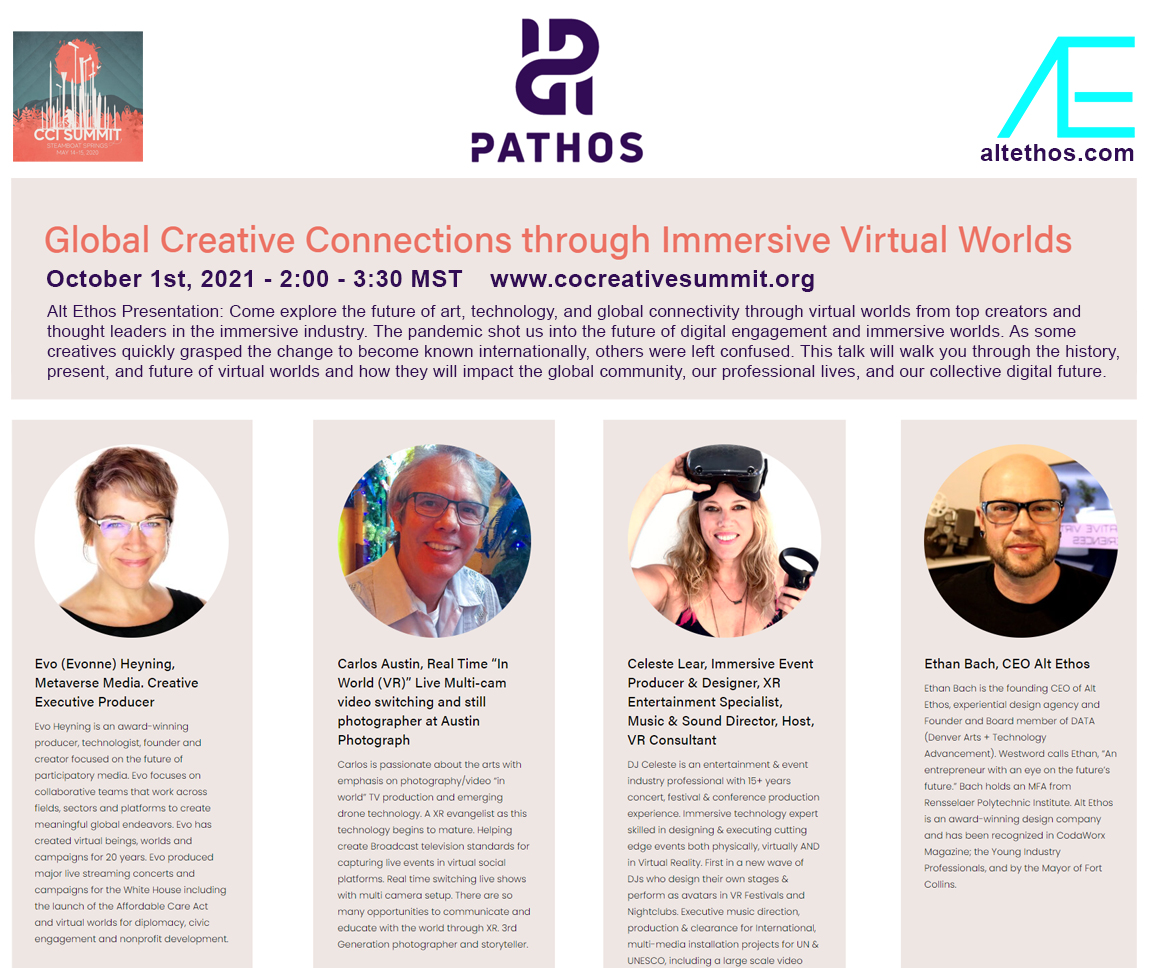 On behalf of The Colorado Creative Industries (CCI) and Alt Ethos, we invite you to our virtual presentation "Global Creative Connection through Immersive Virtual Worlds" hosted in our new Pathos Metaverse, a 3D avatar platform, this Friday October 1st, 2021 at 2:00 PM MST
Please Register Here for the CCI Summit 
Alt Ethos Presentation: Come explore the future of art, technology, and global connectivity through virtual worlds from top creators and thought leaders in the immersive industry. The pandemic shot us into the future of digital engagement and immersive worlds. As some creatives quickly grasped the change to become known internationally, others were left confused. This talk will walk you through the history, present, and future of virtual worlds and how they will impact the global community, our professional lives, and our collective digital future. Speakers:
Julian Reyes, MC
Eric Dallimore, Moderator
Panelists

Carlos Austin

 

Ethan Bach

 

Evo (Evonne) Heyning  
Celeste Lear 

Q&A from audience submitted in writing
Carlos Austin, Real-Time "In World (VR)" Live Multi-cam video switching and still photographer at Austin Photograph
Carlos is passionate about the arts with an emphasis on photography/video "in-world" TV production and emerging drone technology. An XR evangelist as this technology begins to mature. Helping create Broadcast television standards for capturing live events in virtual social platforms. Real-time switching live shows with a multi-camera setup. There are so many opportunities to communicate and educate the world through XR. 3rd Generation photographer and storyteller.
Ethan Bach, CEO Alt Ethos
Ethan Bach is the founding CEO of Alt Ethos: experiential design agency and Founder and Board Member of DATA (Denver Arts + Technology Advancement). Westword calls Ethan, "An entrepreneur with an eye on the future's future." Bach holds an MFA in Electronic Arts from Rensselaer Polytechnic Institute. Alt Ethos is an award-winning design company and has been recognized in CodaWorx Magazine; the Young Industry Professionals, and by the Mayor of Fort Collins.
Evo (Evonne) Heyning, Metaverse Media. Creative Executive Producer
Evo Heyning is an award-winning producer, technologist, founder and creator focused on the future of participatory media. Evo focuses on collaborative teams that work across fields, sectors, and platforms to create meaningful global endeavors. Evo has created virtual beings, worlds, and campaigns for 20 years. Evo produced major live streaming concerts and campaigns for the White House including the launch of the Affordable Care Act and virtual worlds for diplomacy, civic engagement, and nonprofit development.
Celeste Lear, Immersive Event Producer & Designer, XR Entertainment Specialist, Music & Sound Director, Host, VR Consultant
DJ Celeste is an entertainment & event industry professional with 15+ years of concert, festival & conference production experience. Immersive technology expert skilled in designing & executing cutting-edge events both physically, virtually, AND in Virtual Reality. First in a new wave of DJs who design their own stages & perform as avatars in VR Festivals and Nightclubs. Executive music direction, production & clearance for International, multi-media installation projects for UN & UNESCO, including a large-scale video mapping experience in Paris.
Please Register Here for the CCI Summit
About Pathos Metaverse
Pathos Metaverse is a browser-based virtual world by Alt Ethos. For this panel, all of the speakers will be avatars in the Pathos Metaverse. Through live-action virtual cinematography, CCI participants will stream the event in real-time. Selected avatar audience members will also be in attendance and watching the entire production in the Pathos Metaverse.
Pathos Metaverse is an easy-to-use, dynamic, and engaging immersive platform. Pathos Metaverse provides exciting meeting places, dynamic events, branded virtual worlds, and future-thinking hybrid-virtual-world solutions, pushing the boundaries of interactivity.